Wednesday 10th of August 2022
Early Bloomers

Breakfast and after school club
Welcome
Early Bloomers After School Club aims to provide a safe, secure and relaxed environment offering a range of activities to reflect the interests of the children in our care.
What we offer
Our Club follows the Play work Principles, so the children are free to choose activities and resources as they wish. There will always be a selection of activities and resources available, including dressing up, home corner, craft, board games, construction, computer games, physical play, and reading. In addition other resources are available for the children to select from our equipment library.
---
Covid 19 reopening matters
Early Bloomers After School Club Covid-19 Protective Measures
Early Bloomers After School Club
Covid-19 Protective Measures Policy
At Early Bloomers After School Club, Covid-19 protective measures have been put into place in line with the government's guidelines (updated 1st March 2021) https://www.gov.uk/government/publications/guidance-for-parents-and-carers-ofchildren-attending-out-of-school-settings-during-the-coronavirus-covid-19outbreak/guidance-for-parents-and-carers-of-children-attending-out-of-school-settingsduring-the-coronavirus-covid-19-outbreak  
The measures are also aligned to Harris Academy's policies on Covid-19 safety procedures to reduce the risk of the virus and transmission to children, parents and staff. 
Drop-off
: -
Please arrive by the main reception gate and press buzzer for the After School Club (Lordship Lane)
 A member of staff will sign your child/children in at reception 
Please do not enter the school building unless you have an arranged meeting with the senior management 
You should leave from the gate on your left (opposite school hall)
Do not enter the setting if you are displaying any symptoms of Coronavirus (Covid-19) and follow the advice from the link provided
https://www.gov.uk/government/publications/covid-19-stay-at-home-guidance/stay-athome-guidance-for-households-with-possible-coronavirus-covid-19-infection  
Due to parent needs, drop offs are usually staggered. We are, therefore, happy for you to drop off your child at your usual times. However, during drop-off and collection times, use the demarcated markings on the floor to remain socially distant whilst waiting. 
Do not gather at entrance and exit gates
Drop off and pick up is limited to one parent/carer per family 
Try to avoid using public transports to get to the setting, if possible. Walk or cycle where possible or use a private vehicle - provided you are travelling with those from the same household. 
Upon entering the club
:
-
The children will wash their hands in the toilets located at the reception before going through to the hall. 
They will remove any disposable face coverings in a bin provided or placed in a sealed bag if a reusable covering is worn. If your child is wearing a re-usable face covering please provide a sealed bag. They will wash their hands soon afterwards.
During club time: -

 
The children will be seated in small consistent groups of no more than 15 children. These groups will consist of children from the same year. Where this may not be possible, we may need to mix one or two groups on some of the days (of similar age) a week and the groups will remain unchanged. 
There will be up to 5 groups of approx.15 children in the school hall separated by 2 meters at least. They will be seated side by side or at allocated seats. 
Each group will be allocated to at least one member of staff 
Each group will be allocated to the same member of staff both morning and afternoon. If this is not possible and, for example at breakfast club, you are supervised by someone different than in the afternoon session this will remain unchanged over time 
Each group will have their own activities ranging from arts and crafts, construction, games, puzzles, and books 
We will rotate indoor and outdoor play having up to 3 groups outside at any one time. 
Please see rota for minimized movement and interaction in the club. Children will move together in groups to avoid mixing with other groups 
Breakfast and snacks:
-
A trolley on wheels is a new addition to the club which will manoeuvre up and down the hall serving the children with their breakfast and snack.
At the Breakfast Club, children will be served in their individual space that will be wiped clean before and after they eat.
At the After School Club, the children will be served with their snack once they have been registered as usual. 
Please see revised menu. 
Hygiene practices:
-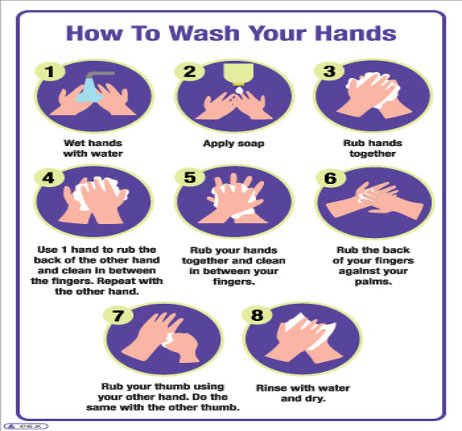 Children will wash their hands-on arrival in the morning and before eating breakfast, they will sanitize hands at the end of session before going to class. 
Children will sanitize hands on arrival to the Club, wash hands before they eat and sanitize hands before leaving club. 
Children will be encouraged to stay within their "bubble group" and social distancing,
Children will be encouraged to follow the "Catch it, Bin it, Kill it" approach by providing a box of tissues and bin with covers near each table. 
Equipment and resources cleaned before re used by another group 
Tables will be wiped clean before each session and after food 
Toilets and washrooms cleaned before each session and once during session in the afternoon 
Additionally, tables and equipment to be wiped clean whilst group is outdoors or midsession
Children reminded not to touch own or others face 
Club has appointed a cleaning assistant 
Outdoor play:
-
Outdoor equipment will be cleaned more frequently and before use from another group
Groups will wait socially distanced when leaving for playground and returning using one-way system to avoid mixing groups.
Collection: -

 
You can collect your child from the main reception. On arrival press buzzer for ASC. A member of staff will verify collector through intercom, your child will be brought to reception and we will sign them out. Please leave from the gates on your left. 
Use of Personal Protective equipment
:
-
PPE will be worn by staff if a distance of two metres cannot be maintained from any child displaying coronavirus (Covid-19) symptoms. 
Children whose care routinely already involves the use of PPE due to their intimate care needs will continue to receive their care in the same way.
How you can help us: -

 
At times, the club will use the screen in the hall, colouring sheets, work sheets or quizzes to learn about Coronavirus. We will use websites such as 'e-bug' and PHE School's resource and Twinkle Learning Hub. If you are also looking for resources to use at home, we recommend trying these websites.
This policy was adopted by Early Bloomers After

School Club on July 2020

Signed: Mrs Talvinder Kaur 

 
These procedures were written in accordance with https://www.gov.uk/government/publications/protective-measures-for-holidayor-after-school-clubs-and-other-out-of-school-settings-for-children-during-the-coronavirus-covid-19-outbreak (published 1st July 2020 and last updated 1st March  2021)
---
Holiday Clubs
Easter holiday applications are made available February and summer holiday applications in May
Easter Holiday Camp
Early Bloomers holiday club will be running over Autumn half term. Spaces are limited so be quick to make your booking. Children will be visiting local green areas to take part in activities.
Dates: 4th April to the 14th of April 2022
Times: 8.30am till 5.30pm
Place: Harris Primary Academy
Early and late sessions are available, please inquire by email
Minimum booking: Two days
Cost per day £50
If you are interested, please complete the form below as soon as possible. Please provide a healthy packed lunch for your child which is
free from nuts.
Registration form, contract and details of full services will be sent to you once a completed booking form is received.
Easter 2022 Holiday Camp form
Child's full name
Child's date of birth
Your email address
Your telephone number (whatever is best to contact you)
Select days required:
| | | | | |
| --- | --- | --- | --- | --- |
| Monday 4th April | Tuesday 5th April | Wednesday 6th October | Thursday 7th April | Friday 8th April |
| Monday 11th April | Tuesday 12th April | Wednesday 13th October | Thursday 14th April | Closed Good Friday 15th April |
Select an option to tell us whether your child has already been registered with Early Bloomers.
Sending your information, please be patient...
---
Times & Location
Based on the school premises of Harris Primary Academy East Dulwich, 173 Lordship Lane, SE22 8HA.
The club is open for our breakfast session 7:45 - 8:45am at £6.50 per session, and after school sessions 3:20 - 6:00pm at £12.50 per session or 3:20 - 6:30pm at £16 per session. Please note that the extended after school session must be contracted and is not available on an ad hoc basis.

In unforeseen circumstances or events that are out of the club's control that require the breakfast and after school club to close, fees will be payable.

We have full use of the playground with lots of outdoor activities.
---
Registration
If you would like your child to be
considered
for a place at the Club, you will need to read and complete our registration forms. These can be downloaded below, or you can contact us (see
Contact
section) and we will send these to you. If you download these forms
YOU MUST PRINT THEM
and
RETURN THE PHYSICAL, SIGNED FORMS TO THE OFFICE address
. Please do
NOT
send us forms as email attachments or by any other electronic means.
To download please right click then choose 'Open' or 'Save As'.
Your child will be able to attend the club as soon as all relevant forms are received, payment has been made, and you have received notice from the club of your child's acceptance and start date.
Admissions & Fees
updated 2021 (read only)
Registration Forms
Contract
Medical
Booking Form
Permission to Use Photographs
Behaviour Management Policy - Aug 2021
(read only)
---
Documents
Please read our
Parent Handbook
for details of our Admissions Policy and Club Rules and Procedures.
You can find other club documents in the sections below:
Full Document Set
Click on the filename to load into your browser for printing, or right click (windows)/control-click (Mac) on the
green document names
to download.
Full Policy Set
---
Food Information
This food menu will be available when we are operating from the main site at Harris Primary Academy, Lordship Lane:


General Information
You can pay your fees by online transfer.

Account details:
HSBC
Sort code 40-05-25
Account number 11717855
Please add child's name as your reference

• We accept cash payment for late pickup fee. Please refer to Arrivals and departure in your parent handbook for more information.

• If you are booking an additional session or temporary space. This would require payment upon booking. Please be reminded we require 48 hours notice to cancel your booked session or this would still be chargeable.
---
Activities
NEW!
Earlybloomers is now offering children
badminton
and
ping-pong
at afterschool club
Fun Arts & Crafts
Games
Construction
Football
Small world
Educational games on ipad
Books
Making and creating
Playdough
Puzzles & competitions
---
---
Registered and regulated by
Early Bloomers c/o Harris Primary Academy East Dulwich, 173 Lordship Lane, SE22 8HA
---
© Early Bloomers